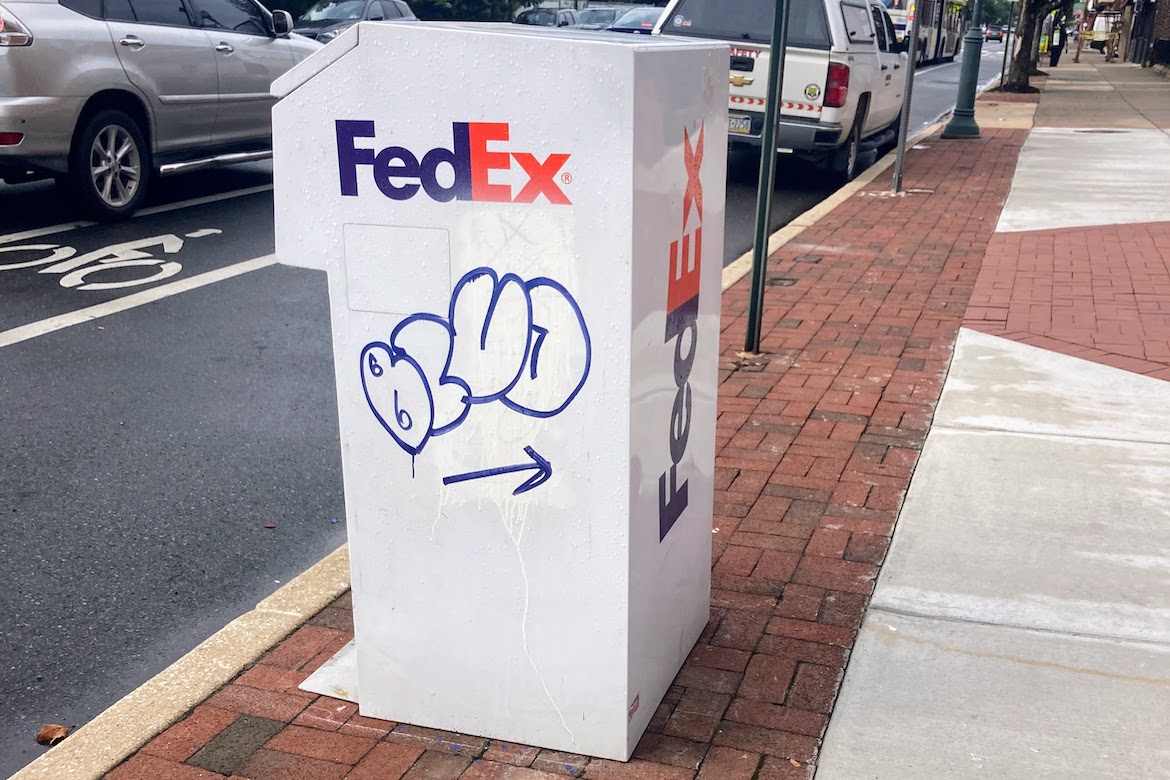 At the Tacony Community Development Corporation, we're always on the lookout for things around the neighborhood that need cleaning up or improvement. This can range anywhere from graffiti and trash on the streets, to abandoned vehicles and potholes. Although these things are nuisances, they are considered non-emergency issues and can take time to identify, and then fix. But did you know that the City of Philadelphia offers an easy way for citizens to request services for these issues online or on a mobile phone?
Every time we identify or are notified of a non-emergency issue in the neighborhood, the staff at the TCDC uses Philly311, the city's customer service center, to report it and get service. You can do this too! Follow along these step-by-step instructions to submit service requests and report issues as we request a graffiti cleanup on Torresdale Avenue.

There are several issues that qualify for a Philly311 request, but if the one you're seeing isn't on this list, don't worry. There are other ways to get service for specific issues, and our staff is happy to help connect you!

Issues Reportable Through Philly311
Abandoned Automobile
Construction Complaint
Dangerous Building Complaint
Dangerous Sidewalk
Fire Safety Complaint
Graffiti Removal
Homeless Encampment
Illegal Dumping
Inlet Cleaning
Maintenance Complaint
Park Conditions (Safety & Maintenance)
Plastic Bag Ban Complaint
Pothole Repair
Recycling Collection
Right-of-Way
Rubbish Collection
Smoke Detector
Street Light Out
Traffic Signal Emergency
Traffic Sign Complaint
Trash Hauler After Hours Noise Complaint
Vacant Lot Clean Up
Vacant Property Complaint
Unlicensed Business Complaint

There are three ways to submit a Philly311 request. You can do so by dialing 311 and speaking to a representative, or you can fill out and submit a form either online or with an app on your phone. By filling out the form, you get the option to track the status of your request. In this article, we'll be showing you how to submit a request online and on your phone.

Step 1 - Identify the Issue

The first step is finding the issue, and noting its location. We often find it helpful to take a photo and note the exact, or approximate, address of the problem. In this case, our issue is graffiti on the corner of Torresdale and Tyson Avenues. So we took a photo, and noted the address as 6958 Torresdale Avenue.
Step 2 - Open the Philly311 Portal

If you are using a computer, the online portal can be accessed here or by looking up "Philly311" and selecting "Submit a Service Request."
To open it on your phone, you'll need the Philly311 App. This is a great option for those expecting to submit several requests with photos. You can download it using the App Store or with Google Play. Once you have the app open, you'll start by selecting "Submit New Request."
Step 3 - Select an Issue and Enter its Location

Scroll down the list of issues and choose the one that's applicable. In this case we selected "Graffiti Removal" and entered the location as 6958 Torresdale Avenue. You can enter an address either by typing it, or by dragging a pin to its location on the map.
Step 4 - Fill out the Form
The next step is to fill out the form with all the information needed. This can be tricky depending on the type of issue, but do your best to include as much information as possible. If some things are a guess or incomplete, it should still be okay provided that the city can see the category and location of the issue. And if you're still not sure, you have the option to provide your contact information in case there are questions.
If you have a photo, now is the time to upload it. For issues that may be difficult for service providers to identify, a photo is especially helpful.
Step 5 - Submit and Create an Account
Once you select submit at the bottom of the form, you will have the option to create an account. This is not required, but recommended if you want to be able to track the progress on your issue. Creating an account is easy, or you can select "skip."
Success! Now just wait and see the magic happen!


Submitting is easy, waiting is hard. Some issues will take longer than others to be resolved, but as long as we stay patient and persistent results will come. If there are no updates to the status of your service request in 7 days, we recommend either re-submitting or contacting Philly311. Persistence is key! The more people reporting an issue in a neighborhood, the more urgently it will be addressed. We hope you'll find these instructions helpful as we all work together to improve conditions in Tacony.