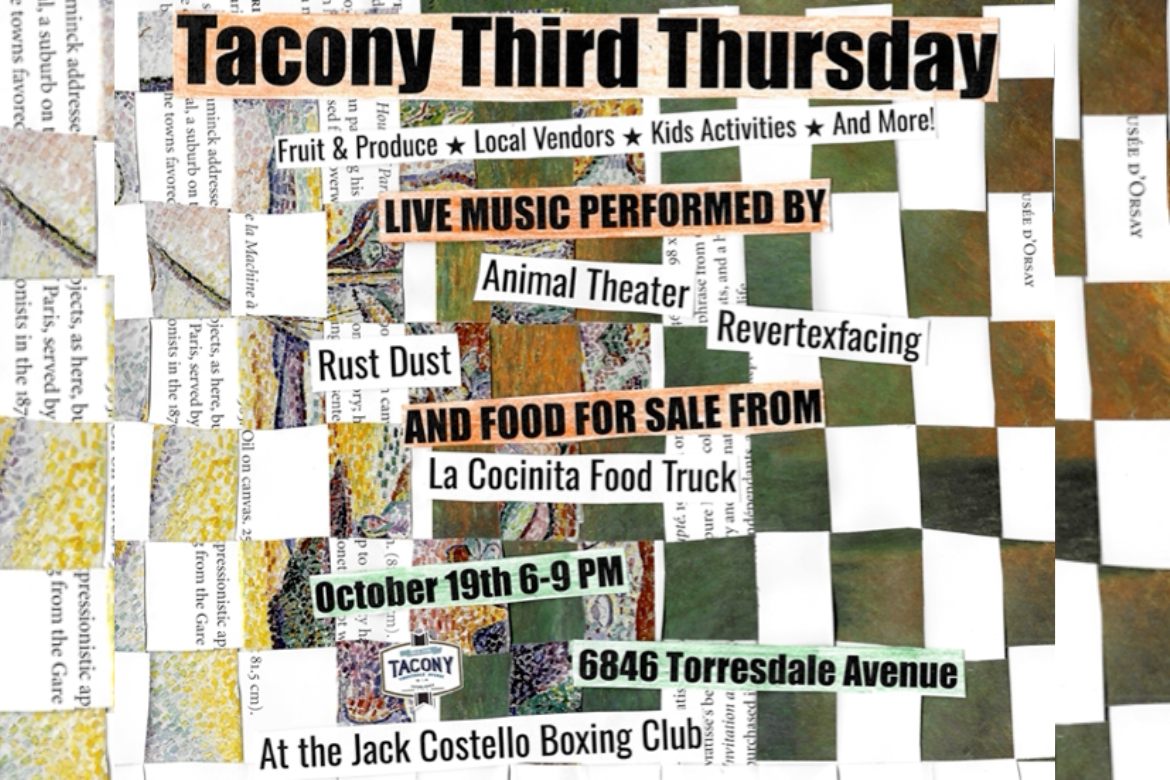 The air is getting colder, nights are getting darker, and it's almost time for this season of Third Thursdays to come to a close. On October 19th, the last Third Thursday of 2023 will send us all off with a bang at the Jack Costello Boxing Gym from 6-9 PM. This month will feature live music from three bands, plus the usual lineup of local vendors, fresh bread and produce, kids activities, and a food truck! October's Third Thursday will also count as a Punch Card Event for Fall For Tacony, so come by if you're interested in winning a prize at Halloween Carnival on October 28th!

We're excited to have a full lineup of musicians this month, featuring Rust Dust from New York, Animal Theater from Northeast Philadelphia, and a surprise band from Tacony! In addition, there will be food for purchase from La Cocinita Food truck.

Based out of Long Island and originally hailing from North Carolina, Rust Dust is a country and blues act from the mind of Jason Stutts. His newest album, Twere But It Were So Simple, shows off blues roots with a kick of country and some nods to the sounds of New Orleans. Joining him in the bank drive-through is the Northeast Philadelphia group Animal Theater, fresh from the release of their album, All Over Looking for You. Also playing at the event is local group Revertexfacing in a one-time-only Tacony exclusive!

La Cocinita is a Philadelphia-based food truck serving up authentic Puerto Rican flavors. Home of the original loaded tostones, La Cocinita makes delicious classics like fried plantains, empanadas, and more!

Join us on October 19th from 6-9PM at 6846 Torresdale Avenue to celebrate the end of the warm season in Tacony. Keep an eye on social media for more details!