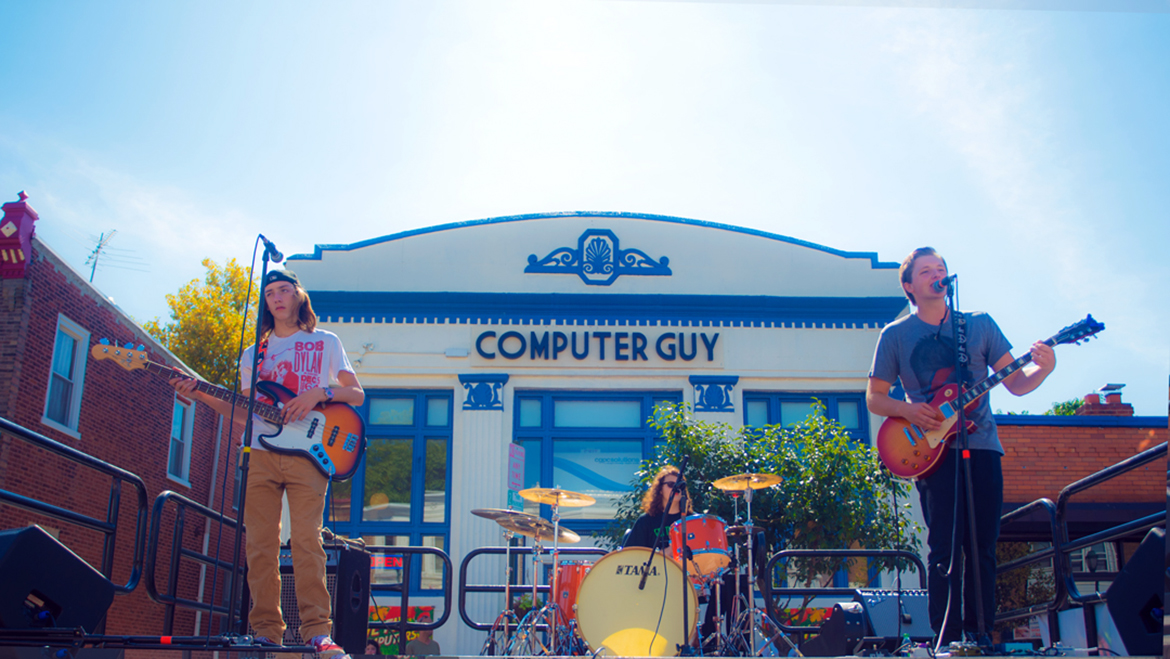 Thanks to the help of our wonderful Board of Directors and team of dedicated volunteers, 2016 was another massively successful year for the Tacony Community Development Corporation, Torresdale Avenue, and the neighborhood itself. Keep reading to learn about all of the great things to happen around Tacony in 2016!
First and foremost, the Tacony Library and Arts Building (LAB) has been a HUGE success this year, bringing what seems like a never-ending stream of arts, crafts, and family events to Torresdale Avenue. We have had so much fun working with them to facilitate the installation of our neighborhood's first parklet (and a solar-powered one at that, complete with outlets to charge phones and laptops!) as well as a terrific new fresco mural (Philadelphia's first!) at the corner of Torresdale and Disston. We are also working with LAB and Tacony Free Library staff on some exciting plans for the renovated library once it reopens -- we can't wait to share more details later on this year!
The neighborhood is exciting year-round, thanks to the commitment of so many tireless residents. We have been active partners and sponsors of some of Tacony's most beloved events, including FallFest, WinterFest, and Small Business Saturday. We love how many neighbors (near and far!) come to these events to support local businesses and hear great music, taste delicious food, and benefit from discounts to area establishments. This summer, the Tacony Civic Association once again hosted its terrific series of summer concerts, including a beautiful season-ending show on the Delaware River beneath the Tacony Palmyra Bridge at Lardner's Point Park. With the Delaware River waterfront trails expanding seemingly by the day, we can't wait to see what opportunities this Summer brings.
Our strong partnership with the Philadelphia Department of Commerce continues. The CDC has also wrapped up our third and final round of Storefront Improvement Program projects, including 8 this year. Tacony has become the citywide model for success with this program, and we couldn't be prouder of our business owners and our partners for their contributions to an ever-improving Torresdale Avenue. One of our projects, the Torresdale Chiropractic at 6813 Torresdale Avenue, even won a citywide prize for "Best Bay!" Although we are unlikely to launch an official fourth round of projects, the city's funding for the program remains in place and we would be thrilled to work with any neighborhood business who wants to participate! We have also completed our 55th security camera through our partnership with Philly Safe Cam.
Other neighborhood highlights from 2016 include the grand opening of several exciting businesses, including Lorenzo's Cafe Espresso, Puddin's Cake Corner, , and just this past month, Philly Pet Supply! This fantastic new addition to Torresdale Ave brings grooming, holistic pet food, and other treats for your four-legged friends. And, while we were sad to lose Wellen's Hosiery, a neighborhood landmark for years, we are looking forward to having a flower shop on the Avenue again soon!
Tacony CDC also has a growing partnership with the new Mayfair Business Improvement District (BID). We have co-hosted several programs this year, including an event with staff from the Department of Revenue to help business owners understand the new Philly Bev Tax, and Scream Your Dream, a free marketing seminar.
All of this has been on top of our regular clean and safe efforts, which include managing twice-weekly cleaning along the primary commercial corridor, Torresdale Avenue; stewarding new and old street trees along the Avenue; and maintaining a close working relationship with the Philadelphia Police Department. We also regularly survey the neighborhood for graffiti, abandoned cars, and major code violations (on over 70 properties!), ensuring that the city is quick to address problems that make the neighborhood look and feel less safe. Finally, we have carried out our first conservatorship of a vacant, blighted home on Hegerman Street.
As you can see, this was a busy year here at the CDC, and we feel lucky to have your help and your support. People are really starting to notice the positive changes going on around here, and are supporting our work more than ever: this past year was our biggest fundraising year on record. We'll be sure to put these added funds to excellent use in 2017!