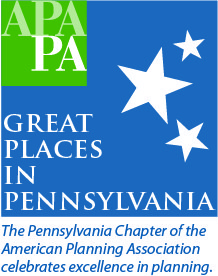 The Tacony Community Development Corporation is proud to receive the "Great Places in Pennsylvania" award from the Pennsylvania Chapter of the American Planning Association. Great Places are unique, memorable places that work not only for their community, but as a model others want to emulate – places of exemplary character, quality, planning, identity, cultural interest, and community involvement with a sustainable vision for tomorrow.
The Tacony Community Development Corporation uses a comprehensive approach for commercial corridor revitalization and neighborhood revitalization. These include improving the design and appearance of the neighborhood; promoting our neighborhood as a place to do business, live and invest; organizing our community and working with our partners; and improving the level of economic activity and investment in our community.
"This is a great measure of the continued progress made in Tacony in recent years," said Councilman Bobby Henon, who represents Tacony in City Council. "It's a tribute to the hard work of the Tacony Community Development Corporation, Civic Association and the neighbors that are the driving force behind this revitalization."
Alex Balloon, Corridor Manager for the Tacony CDC, added: "We're honored to receive this prestigious award. We've always known Tacony was a great place and over the past few years key projects, smart neighborhood planning, and strong partnerships have made it even better. We couldn't have achieved this milestone without the hard work and dedication of our volunteers and our project partners. We're looking ahead to take on even more exciting projects in the near future."
Torresdale Ave and New Commercial Investment
Over the past three years Torresdale Ave has improved dramatically. Key new businesses have opened and the effective vacancy rate has fallen significantly. New investment and the redevelopment of key buildings along the corridor will welcome even more new businesses. We will soon begin our second phase of storefront renovations this fall to add to our 16 completed storefronts.
Housing
The Tacony Historical Society completed the recent nominated the Disston Estate section of the neighborhood for listing on the National Register of Historic Places. Another key partner is the Civic Association, which encourages resident engagement and helps organize special events such as the Summer Concert Series and Winterfest. Key neighborhood projects and investment have attracted new residential redevelopment projects that are popping up all throughout the neighborhood.
Public Space & Parks
Key public realm improvements added signature parks and a new waterfront Trail, led by the Delaware River City Corporation. The completion of Lardner's Point Park and the extension of the K&T trail will soon connect the trial circuit in the region.
Major New Projects
Major new projects are set to leverage key investment in the Tacony neighborhood. These include the Tacony Library, SawTown Tavern, Keystone Academy, Tacony Academy, and the Storefront Improvement Program second phase.
Significant Plans
The City of Philadelphia is beginning its Plan2035 comprehensive district plan for the North Delaware area of the city which includes our neighborhood.