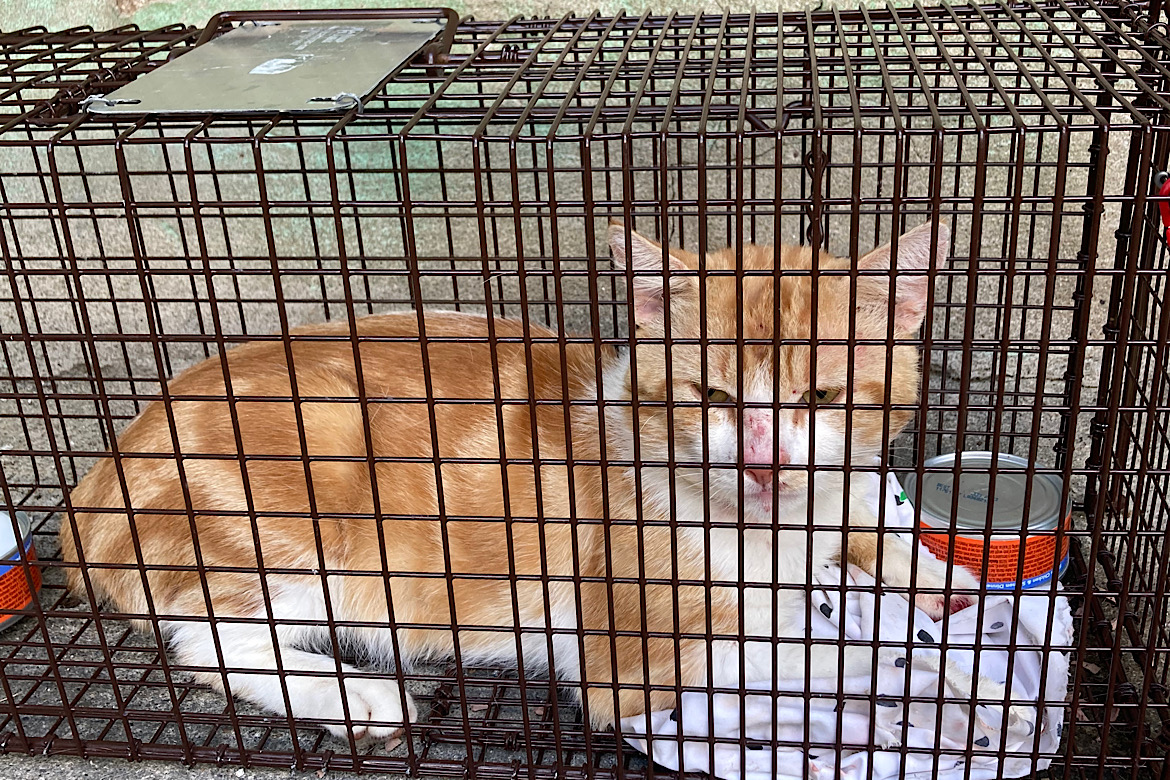 If you live in Tacony, chances are you've seen your fair share of "community cats" out and about. Here at the CDC's office, located in the Tacony branch of the Free Library of Philadelphia, we've come across at least four using the library's yard as a home base. One of those cats--we call her Prudy--recently had kittens!
As community members, sometimes it feels like the most we can do for all of these cats is leave out the occasional can of food and keep our distance. But if you're concerned about the well-being of our furry friends, there is a group based right here in Tacony that can help you help them. Catadelphia, an organization dedicated to helping and reducing the population of feral cats in Philadelphia, offers free TNR (Trap Neuter Release) assistance to anyone who asks! At the CDC, I went through the entire process with my friend Johnny Appleseed (the cat), and here's how it went.
After realizing that the majority of the library cats are not fixed or neutered, I went to the website for Catadelphia's cat trap library here. At that link, they provide humane cat trap and shelter rentals which you can pick up at the Safeguard Self Storage building located on Keystone street in Tacony. All I needed to do was fill out a quick rental form and pick a date and time for pickup. Once there, the lovely people at Catadelphia provided all of the materials and information I might need for operating the traps and taking whatever cat I might catch for treatment.
Before renting the traps, they ask that you have a date and location for TNR treatment. This is actually really easy to get in Philadelphia! The ACCT in Philly offers free TNR every Tuesday at their clinic on West Huntingdon Park Ave, so all I needed to do was put in the date for the Tuesday after I picked up the trap and add that I was going to ACCT Philly. For more information on their TNR services, including the occasional Thursday they may offer, follow the link here.
After picking up my rental trap, I baited it in the yard of the library on a Monday--so that whoever I caught wouldn't have to sit in a trap longer than one night. After checking the trap repeatedly throughout the day, I had almost given up hope on catching anyone that week. It wasn't until I checked it just before leaving for the night that I finally caught a cat, whom I call Johnny Appleseed. Because he did not have a chip in his ear, I knew that this cat had never been neutered, so I loaded him in my car and kept him (inside the trap) in a safe and dry place in my yard until the next morning.
For ACCT's TNR service, they ask that you drop off no more than two community cats between 8:30 and 9:30 on a Tuesday morning, and pick them up the next day between 8:30 and 12. At the clinic, I said goodbye to Johnny Appleseed knowing that he would be in good hands for the next 24 hours. At pickup the next day, ACCT provided me with medical records for all of his free treatments. He had been neutered, vaccinated, provided flea and tick treatment, and received a wellness exam during his short stay there.
I brought Johnny Appleseed back to the Tacony library branch, opened the trap, and he quickly (and hopefully gratefully) ran out, possibly never to be seen by me again. After all of this, I scheduled my cat trap return, sanitized the trap with the materials provided by Catadelphia, and brought it back to the storage unit in Tacony. Throughout the entire process, the folks at Catadelphia were extremely communicative and helpful with any questions I had about TNR services. This community member will be going back to them soon to try and help some more local cats, and I encourage my fellow cat lovers of Tacony to do the same!
Pictured: Johnny Appleseed, looking displeased with me
Links for the services mentioned in this article:
http://www.acctphilly.org/acct-philly-tnr-services/
https://calendly.com/traplibrary
Author: Amarynth Ruch