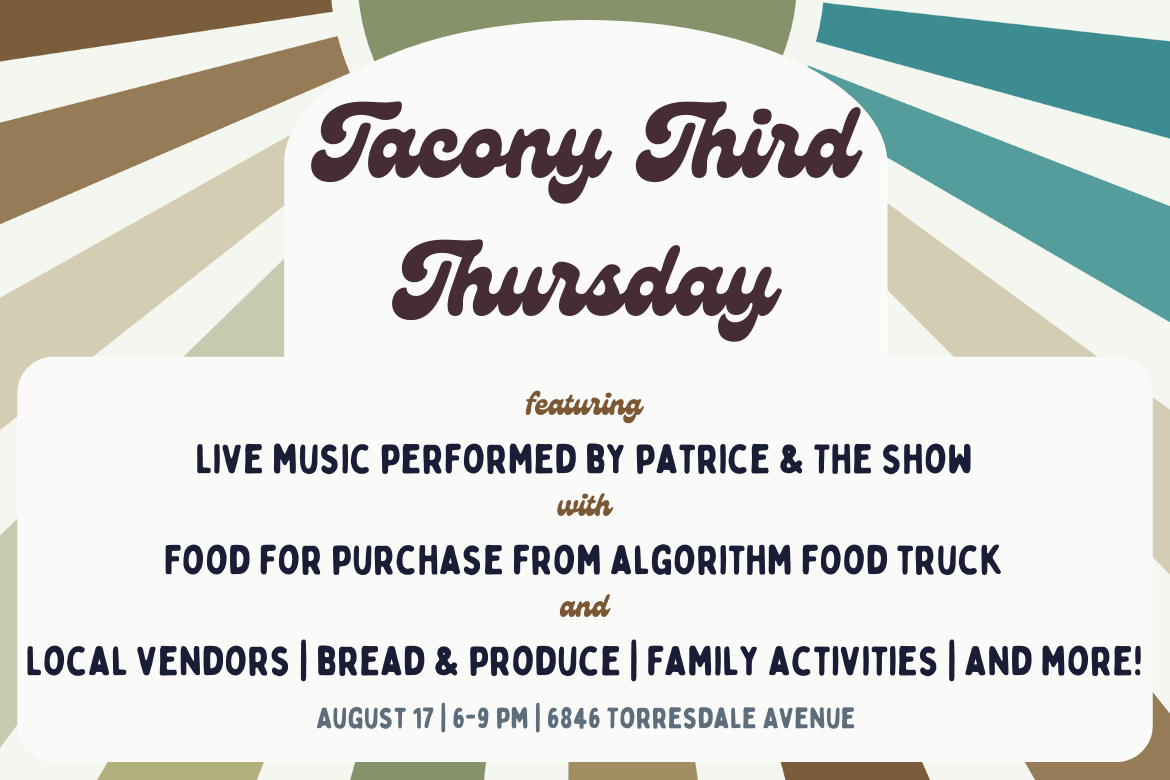 After another successful Third Thursday hosted in July, we're looking forward to the next one! Tacony Third Thursday is a monthly event held outside in the parking lot of the Jack Costello Boxing Club at 6846 Torresdale Avenue from 6 pm - 9 pm. This month's event will take place on August 17th and will feature live music from Patrice & The Show, food available for purchase from Algorithm Food Truck, and more!

Patrice & The Show features frontwoman Patrice Hawthorne, well-known for her role as Peaches in the vocalist duo Peaches & Herb. She is accompanied by a host of talented musicians who have performed with artists such as Stevie Wonder, Michael Bublé, Celine Dion, The Beach Boys, and more. The group puts on an incredible show that is sure to be a fantastic performance!

The Algorithm Food Truck is run by Algorithm Vegan Grill. They've been named Philly Magazine's Best Food Truck and have a wide menu that appeals to everyone! Delicious hot sandwiches, yummy tacos, sweet treats, refreshing drinks, and more. We're excited to have one of the best food trucks in the city right here in Tacony!

As always, Third Thursday will include fresh produce for sale from Capriotti Brothers, bread from Nonno Ugo's Italian Bakery, local organizations such as the Tacony Civic Association, and a host of other vendors listed below. Come by to shop, talk, and enjoy the show!
August Third Thursday Vendors
Stitch Punch
Michiirei

Quilter Emily Designs

Wot in Salvation?

New + Wesley Images

Tacony LAB Community Arts Center

City Reach

Swim Pony

The Block Gives Back

Jack Costello Boxing Club

Representative Hohenstein
Senator Dillon
Tacony Community Development Corporation