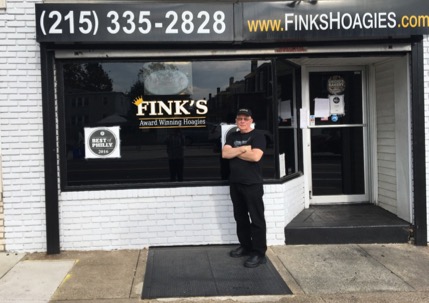 Fink's Hoagies is located at 4633 Princeton Ave.

When did you get started?
We were established in 2004.
Why did you get started in Tacony?
I've lived in Tacony for 37 years; this is my neighborhood. It's also a convenient location.
What do you like most about being located near Torresdale Avenue in Tacony?
It's a convenient location that gets a lot of foot traffic. People are always out on Torresdale Ave so there's a good chance they'll stop by.
What do you enjoy most about your customers?
I like that the customers become my friends. It's a tight-knit community where we all get to know one another.
What's your favorite item or service that you sell?

Our Original Italian Hoagie. It's a customer favorite and was recently mentioned on Billypenn.com's list of the "10 Essential Philly Sandwiches."
What do you hope Tacony will look like in the future?
I think Tacony is on its way back. It's becoming a nice little neighborhood to live in again and a big part of that is due to the local businesses that anchor the community.